We've looked at the most popular gas grills we see other campers use a lot to find the best portable gas grill for camping. We're pleased to bring you our five favorites and we hope this helps you find the best portable grill for your needs.
If you cook out a lot, you know it can be a challenge to grill outdoors if you're out in the woods. With a nice portable gas grill, you can turn every camping trip into a delicious pleasure.
Using an easy-to-operate gas grill, you can cook your food quickly no matter where you are. Here are a few tips on what to look for in the best portable gas grill and a few recommendations to help you start shopping.
[lasso ref="weber-q1200″ id="1416″ link_id="2450″]
In this article, we're taking a look at the following portable gas grills:
Best Portable Gas Grills: Our Favorites
---
Best Portable Gas Grill: Quick Answers
1. Weber Q1200 Propane Grill
Dimensions: 20.5 x 40.9 x 24.6 in. | Weight: 28.8 pounds | Cooking surface: 189 sq-in
The fully assembled and ready-to-use right out of the box Weber Propane Grill comes equipped with a cast aluminum body and lid and cast-iron, porcelain-enameled cooking grates. The sturdy shroud opens smoothly on its hinges while the burners easily start on the first try.
The cooking surface heats evenly while the precision controls let you adjust the heat to get the right level whether you are using indirect or direct heat.
Producing 8500 BTUs per hour, the Weber Propane Grill gives you 189 square-inch total cooking area. The cook box is a convenient place to store the grease management system, burner tubes, and cooking grates.
This is an efficient and durable cook box that needs little maintenance. It's also able to withstand heat at any temperature, plus the box's shape helps the grill to produce the right heat circulation to cook the food evenly.
Pros
Cools off quickly.
Fast and easy to set up.
Compact size fits easily into the car and RV.
Cons
Loses heat quickly after opening the lid
---
2. Pit Boss Grills Portable Grill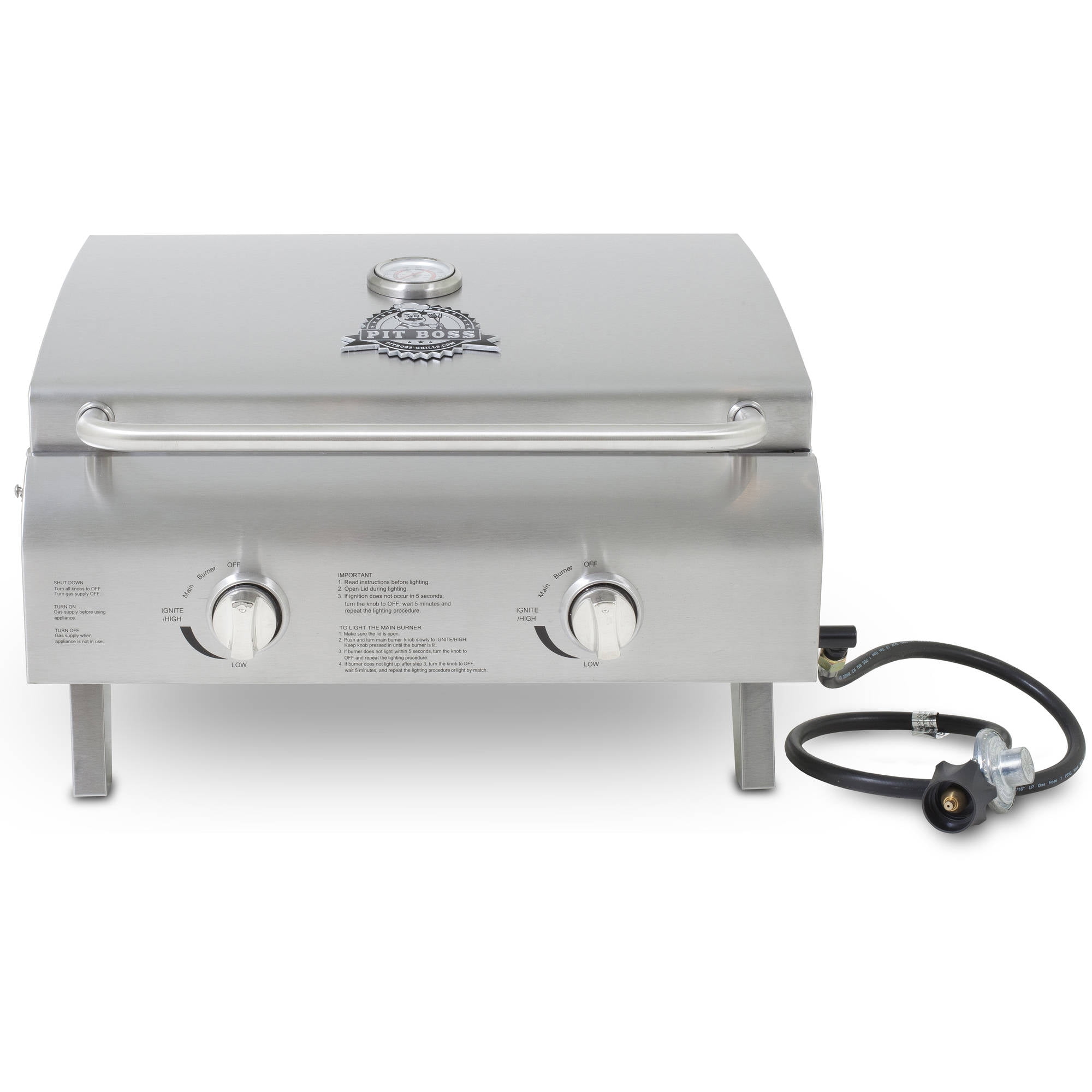 Dimensions: 23 x 16 x 19.5 in. | Weight: 23 pounds | Cooking Surface: 276 sq-in
Although it looks small, the Pit Boss Portable Gas Grill gives a lot of cooking surface for a portable grill. With 20,000 BTUs, the Pit Boss 75275 runs on propane with a 304 stainless steel cooking grid made of stainless steel inside a stainless-steel shell.
Using a push and turn ignition, the Pit Boss Grill uses two burners that release the right amount of heat for searing and grilling on the go.
Also featuring a built-in dome thermometer and ABS controls, the Pit Boss comes equipped for all grilling needs. A good little grill for tailgating or camping. Its lightweight and portable design feature a latching hood and folding legs making it easy to carry.
Its durable stainless steel construction makes it a grill that you will last for years to come.
Pros
Nice portable grill with a heavy-duty cooking grate.
Good value for money.
Control knob that ignites the grill quickly.
Cons
Legs don't lock so you need to be careful if you need to move it while cooking.
---
3. Coleman RoadTrip LXE Portable Gas Grill
Dimensions: 32 x 35 x 19 in. | Weight: 44 pounds | Cooking Surface: 285 sq-in
Easy to set up and carry, the Coleman RoadTrip LXE is a portable gas grill that you can just fold up and roll to your cooking spot. With the lift and lock system, it sets up super quickly and collapses easily so you can fit it into most vehicle trunks.
Featuring a long-lasting cast-iron grilling surface, the Coleman RoadTrip LXE ignites quickly with just a push of a button thanks to its InstaStart matchless lighting system.
Featuring 20,000 BTUs, you can cook for over an hour using just one propane cylinder on a 285 square inch cooking surface. Easy to clean, the Coleman RoadTrip LXE has a removable grease tray with porcelain-coated and cast-iron surfaces.
Overall, this is a great grill for cooking on your patio, camping, tailgating, picnics, or BBQs.
Pros
Portable and lightweight grill.
Nice cooktop surface area.
Nice pop out trays that hold your cooking utensils and food.
Cons
Legs don't lock so you need to be careful if you need to move it while cooking.
---
4. Blackstone Tabletop Grill
Dimensions: 26 x 9 x 22 in. | Weight: 34.8 pounds | Cooking Surface: 339 sq-in
The Blackstone Tabletop Grill features a custom-designed hood that keeps heat in quite well. The Blackstone's heavy-duty cold-rolled steel surface comes with two burners that you can control independently.
Its flat surface makes it ideal for cooking anything from pancakes to steaks and so on.
Using 24,000 BTUs and a 330 square inch surface, this is a great grill to make full meals quickly without having to set up a full-sized grill.
The Blackstone Tabletop Grill measure 22-inches making it easy to take with you camping or parties. The griddle cooking features keep meat tender by letting you cook without flavor loss or flare-ups. It also comes with a heat-resistant grip handle that can be removed or attached when you want.
You also get two adjustable burners that allow you to cook different foods at the same time without worrying about burning anything. The Blackstone Tabletop Grill also comes with a built-in grease management system. It draws grease away from the food making cleaning up easy.
Pros
Heats up quickly.
Drains grease well and comes with a solid drip tray.
Portable with lots of storage underneath.
Cons
The top sits a bit high off the flame which can affect its performance.
---
5. Cuisinart Petit Gourmet Gas Grill
Dimensions: 12.2 x 18 x 12 in. | Weight: 13.5 pounds | Cooking Surface: 145 sq-in
With a super compact design, the Cuisinart Petite Tabletop Gas Grill features a one-burner tabletop that can be used pretty much anywhere.
Large enough to cook a family meal, the large cooking grate can hold up to four pounds of fish, 10 chicken breasts, eight burgers, or eight steaks. Using less gas than a typical full-sized grill, the Cuisinart Petite is able to heat up quickly.
The Cuisinart Petite has aluminum legs that fold up for convenient storage with a locking handle that lets you carry the grill easily.
It also comes with a spill-resistant drip tray and a grill lid latch. This portable grill is easy to take camping, or perfect for grilling in small spaces like patios and small decks.
It connects to a 20-pound LP tank conversion hose and gives you hours of grilling time and comes with a twist-start ignition to make lighting easy.
The heat source is close to the cooking surface which makes the Cuisinart Petite more energy efficient than the typical large grill.
It also cooks evenly just like a larger grill. With 5,500 BTUs, the porcelain-enameled grate and stainless-steel burner do a great job at cooking food evenly.
This is the smallest of the portable gas grill we reviewed which makes it ideal if you're car camping and you need something that doesn't take much room.
Pros
Nice portable gas grill that is perfect for car camping.
Easy to store
comes with a locking handle so it is easy to move around.
Cons
The top sits a bit high off the flame which can affect its performance.
RELATED: Best propane fire pits
---
Best Portable Gas grill: Buying Guide
What are the advantages of a portable gas grill?
A big advantage of using a gas grill is that you don't have to wait for the charcoal to get hot. It's very convenient since it is always ready to go. Here are a few other benefits of using a gas grill:
Gas is usually cheaper to buy than charcoal
Gas is easier to clean up than charcoal
If you have gas in your home, you can hook up the gas grill so you always have fuel
You can get accessories like smoke boxes and side burners with a gas grill
You get added moisture to your meat with the steam that gas grills give off
Things to Look For in a Portable Gas Grill
BTUs
BTUs, or British Thermal Units, help you know how much gas you need to heat up your grill. The higher your BTUs, the hotter the temperature your grill will be. The BTU rating on a grill tells you the most heat that you will get per burner or on the main grill area only.
Keep in mind that if the unit is inefficient due to thin materials, it won't hold the heat. A way a grill will compensate for lightweight components is to have higher BTU output, so be wary of grills with a very high BTU rating that may be compensating for not being able to hold the heat.
Also, low BTU grills can take longer than normal to preheat or may take away to recover heat after you load the grate with food.
Surface Cooking Area
Depending on how much you plan to cook at one time, having a larger surface cooking area can be a plus. Keep in mind that the typical portable grill won't have a holding area or large warming tray, so if you plan to cook everything on the grate, you will want more space to keep things warm. 
RELATED: Best camp table
Burners
You want to look for burners made of brass or stainless steel on a gas grill since cast iron tends to rust and aluminum will burn out. For corrosion resistance, you want stainless steel with a 304 grade or an 18-8 rating.
Some gas grills will protect the burners from grease drippings by using a metal deflector between the burners and the grate. You will also see a reduction in hot spots on the grate to give you a more even heat.
Due to their size, the typical portable grill will have just one temperature control. If you want dual burners, you can find gas grills with dual temperature controls that can accommodate two separate temperature zones as you cook.
Grates
Helping to hold the heat within its cooking area, a good grill will have grates that conduct the heat into the food you are cooking. There are several materials grates can be made of each with its advantages and disadvantages.
Grates that are chrome and nickel-plated typically come with a wire core. They are lightweight, so they don't hold the heat well.
And, they have a tendency to chip and rust. Great for conducting and holding heat, cast iron grates will also rust if you don't treat them will oil or cooking spray on both sides.
Grates made of stainless steel are easy to clean and work well. Heat-treated porcelain over cast iron is also a good choice, but they can chip or crack and are very heavy. If you are considering portability, stainless steel is your best choice.
Ignition
You can find many gas grills that come with spark ignition systems. Some use a battery for power while others use a push button or dial to light a spark.
Typically, they will come with a backup manual ignition hole in case the starter fails that requires either a long fireplace match or candle lighter to start.
Portability
Compact gas grills will be smaller and lightweight. They should be easy to fold up and put into the trunk of your vehicle as well. Here are a few other features to consider when buying a portable gas grill.
Does it have a travel case?
Do you need to disassemble it to move it?
Does it have wheels that will move it easily?
Does the collapsed dimension fit in the trunk of your vehicle?
Does it have a lid that latches for secure transport?
When collapsed, will it stand on its end or sit flat?
Fuel Tanks
Portable grills will typically come with a small cylinder of propane that is the perfect camping size. This size cylinder will be perfect for a few meals.
If you want to be economical and plan to use it a lot or for large groups of people, you should buy a conversion kit so you can use a 20-pound propane tank.
---
What's the best way to use a portable gas grill?
If you are thinking about getting a gas grill, there are two best ways to use it. The first way is if you cook outside away from home like when you are camping, tailgating, or out with your RV.
In this case, you need something portable and lightweight that still has a lot of cooking power and gives you even heat.
The second reason is if you don't have the space or interest in a large grill, but you still need a grill for your home. Having a portable gas grill will let you cook your favorite grilled vegetables and meats without the cost of a large freestanding grill.
It can also be nice to have the portable grill as a backup for when you have family and friends over.
---
Final Thoughts
Based on portability, power, and durability, our top pick for the Portable Gas Grill roundup is the Weber Q1200 Propane Grill. It's easy to assemble and durable with its cast aluminum body and lid, and cast-iron cooking grates. The burners are super easy to start on the first try and they produce even heat with good precision controls. 
We also like the cook box which is a convenient place to store the grease management system, burner tubes, and cooking grates. Not only is it durable but the cook box doesn't need a lot of maintenance either. We've had our Weber for 10 years now and it's still going strong!
Also Read: Our camping section for other useful items for setting up camp.