The Bushnell brand is popular amongst families looking for a quality tent on a budget. Compared to other budget brands, Bushnell products do not sacrifice quality and functionality.
The Shield Series, in particular, is designed to help you enjoy the perks of nature while minimizing some of the costs. Keep reading for our in-depth Bushnell Shield Series Tent Review.
Bushnell Shield Series Tent Review – Overview
For over 65 years, Bushnell has been leading the industry in creating award-winning outdoor sports equipment. Bushnell is also known for continuously exploring advancing technologies to incorporate into its products, so your gear is as innovative as possible.
The Bushnell Shield Series Tent is Bushnell's most innovative tent compared to its other instant cabin products and competitors. The simple setup is a huge selling point, but the interior space is pretty amazing too. It even offers the added luxury of adding an A/C unit, allowing it to vent directly into your tent.
While Bushnell's other tents get the job done well, the Bushnell Shield Series tent is a step up, offering extra storage space, square footage, and durability. The tent also comes with a cover, six heavy-duty tie-downs, and a convenient carry bag with your purchase.
We will break down what to consider, the features and benefits, and everything else you need to know about in this Bushnell Shield Series tent review.
Tech Specs (6 person/12 person)
Capacity: 6 person/12 person
Total Dimensions: 11' x 9'/18' x 11'
Floor Area Size: 99 sq. ft./198 sq. ft.
Center Height: 72"/80"
Weight: 27.4lbs/59.9lbs
Packed Size: 47.6" x 10.4" x 10"/49.5" x 13.3" x 11.3"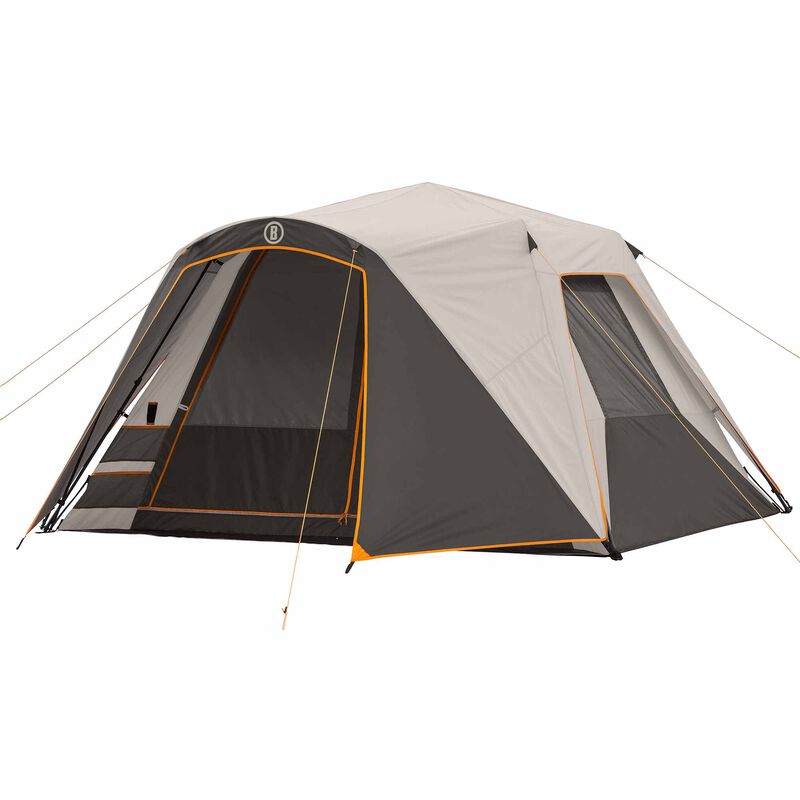 ---
Things to Consider Before Buying a Bushnell Shield Series Tent
Before ordering your Bushnell Shield Series tent, you'll want to consider how many people you plan to accommodate, what kind of terrain you'll need protection from, what time of year you're going camping, and your budget.
The Bushnell Shield Series tent accommodates either six or 12 people and can endure harsh conditions because of its high-quality material. Thanks to Bushnell's advanced technology, these tents offer a heat-resistant coating for UV protection and dense fabric with sealed seams for weather protection.
This is a great tent if you're a first-time camper who wants an easy setup or even if you're an experienced camper who wants the luxury of space for your next trip and a more durable tent to replace an older one.
While Bushnell is known for its affordable pricing, you can find cheaper alternatives with the CORE 6 Person Cabin Tent or the CORE Two Room 12 Person Instant Cabin Tent, although you will have to compromise space with both of these.
Features & Benefits
The Bushnell Shield Series tent comes equipped with many standard and advanced features, all of which offer incredible value.
Instant Setup
The Bushnell Shield Series tent comes with the poles pre-attached to the dense, durable fabric. When you want to set the tent up, all you need to do is unfold the legs, extend them into position, and make sure they click into place. In all, the setup roughly takes about a minute to complete, hence the "instant" title.
For us, there is nothing we hate more than having to fuss around with poles during setup time, so we're immensely thankful for this feature. Especially in the larger, 12-person tent, having this pop-up feature saves precious time that you can better spend setting up other aspects of your campsite.
You can check out just how quick and easy the six-person tent's setup is in this first-time setup video.
The 12 person tent, while considerably more extensive than the six-person tent, doesn't take too much time to set up either. It comes with all of the same setup features as the six-person tent, so its build time is only about two minutes or faster if you get all 11 of your friends to help.
Multiple Storage Compartments
Having quick access to all of your smaller camping necessities is an incredible feature the Bushnell Shield Series tent has to offer. Rather than fumbling around through your pack, quickly find your items in the ample storage compartments that help to protect your belongings from weather and wild animals.
Pockets and pouches line the interior tent walls for you to store whatever you need. These storage compartments also maximize the tent's interior square footage so that you move about the tent and sleep comfortably without storage boxes crowding your space.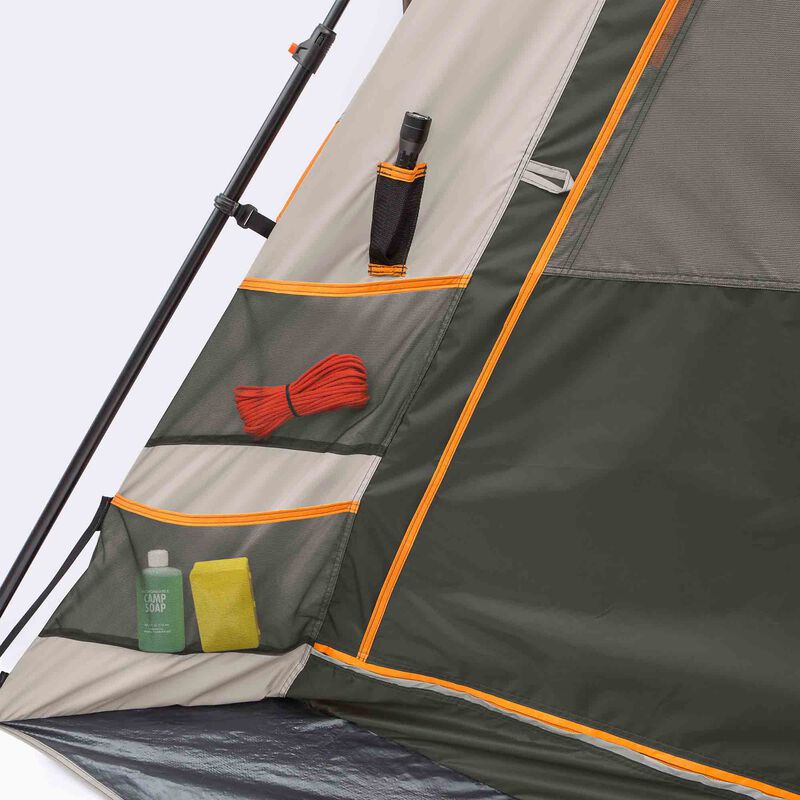 The tent even has a specified flashlight pouch sewn into its interior fabric. This pouch will give you easy access to your flashlight rather than making you search around in the dark to find one.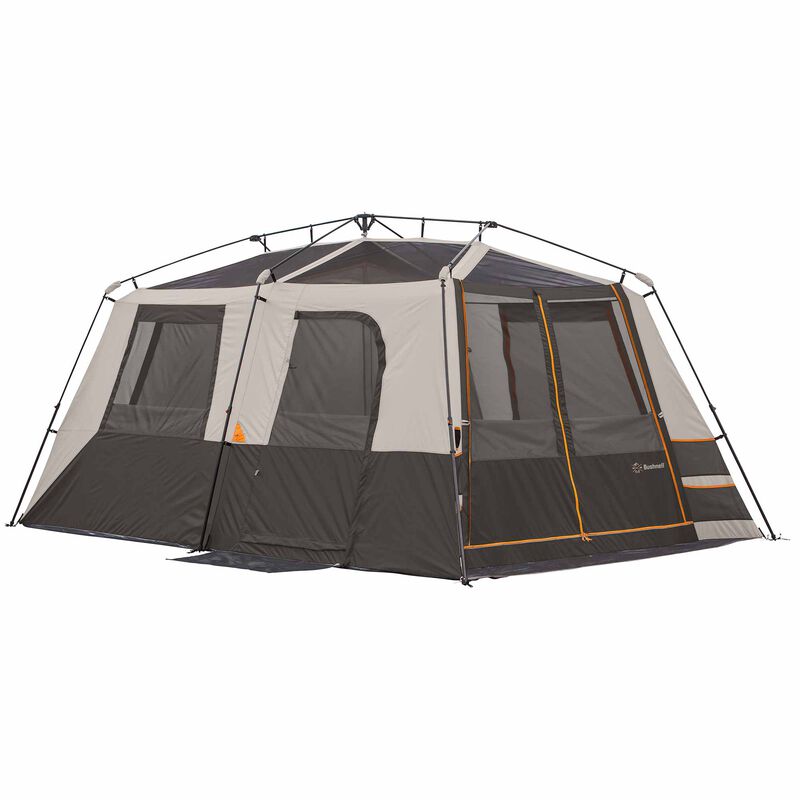 Large Windows
While you need protection from your environment, you'll also want a view. The whole point of camping is to immerse yourself in the wilderness, and a fully covered sleeping or living space takes away from that experience.
The Bushnell Shield Series tent has large windows to help you make the most of your outdoor adventure. After all, there's nothing quite like that great view of the sunrise each morning while you're camping.
The Shield Series tent's large windows also provide proper airflow. The windows help the tent's interior feel less stuffy and allow air to circulate through space, especially during the night.
Take a look at the airy design of the six-man tent with the extra-large windows in this video.
Removable Room Dividers in the 9 and 12-Person Models
The Bushnell Shield Series tent 12-person model is so huge that it has multiple rooms to comfortably house you and up to eleven of your companions. You can set up the removable room dividers to accommodate and create distinctive spaces for even more privacy.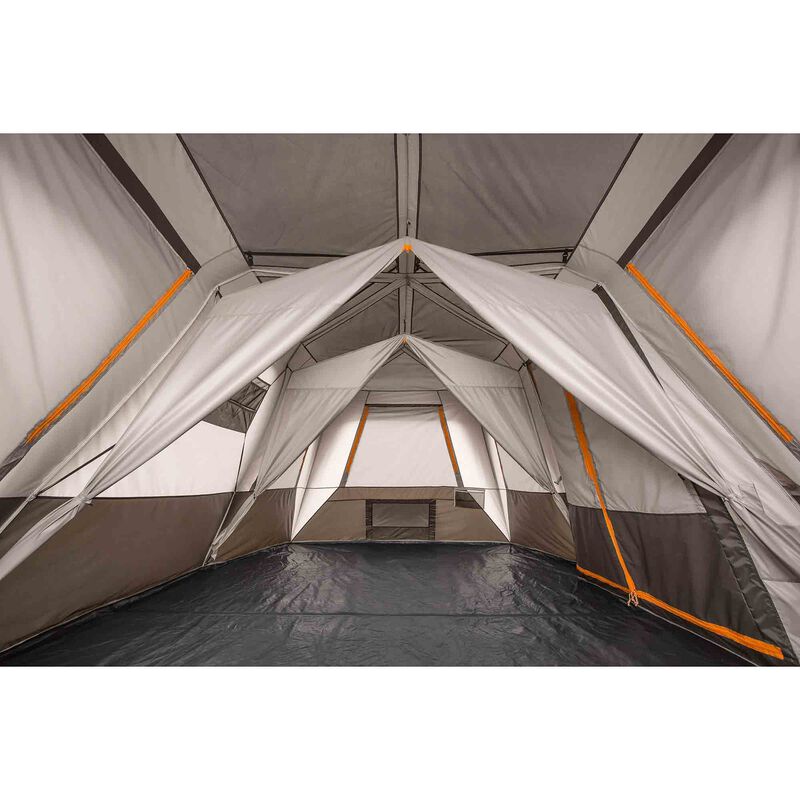 Or, opt for a single wide-open space for everyone to convene in by taking down the room dividers as needed. This removable feature comes in handy, especially at night.
When we went camping with a few friends in Sedona before we had kids, I wished we had room dividers in our tent at the time; they would've somewhat helped block out one of our friend's severe snoring…
UV Protection
Protection from the sun and harmful UV rays, especially if you have sensitive skin, is essential to have when you go camping.
The protective UV coating found in the Bushnell Shield Series tent reflects sunlight and helps keep the inside of the tent cool beneath the beating sun. If you take your tent out during the summer or the warmer months, you can find comfort in the cool, shaded inside of your tent.
The protective coating not only deflects heat but also creates a darker space within the tent. This dark space that results from the reflective coating will help you sleep better at night, too, because it minimizes the amount of light that will get in.
Weather Shield Technology
You can't predict the weather. Fortunately, you won't need to when you use the Bushnell Shield Series tent. The weather shield technology in the dense, 150 denier fabric doesn't just account for rain; it also protects from all-weather, including harsh winds.
The weather shield technology not only protects you and your fellow campers from the elements, but it helps to protect you from animals too. The factory-sealed seams prevent animals and insects from invading the interior space during all times of the day.
I should warn you that you should close up the ground vents to ensure maximum security during tremendous downpours. With the vents open, the tent is vulnerable to leaks in the ground fabric. The leaks won't be substantial, but it's better not to have them at all.
You can see for yourself just how well the materials hold up during a rainstorm. Upon the first appearance, it looks as though the tent holds up nice through a fair amount of rain and wind, but in the morning, there was evidence of a water leak through the vents.
E-Cable Port
In such a modern age, it's hard to go entirely without any electricity. Bushnell understands this and has attached an e-cable port to help accommodate any electrical needs.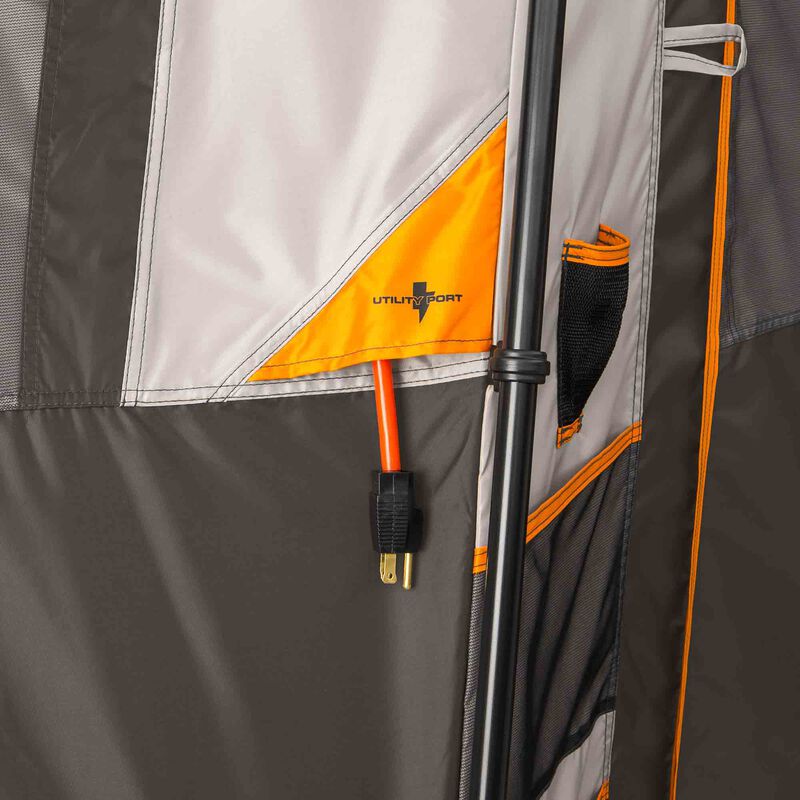 The e-cable port gives you quick and easy access to an extension cable so you can plug in any necessary electronics such as lights or chargers.
The e-cable port offers a sense of security in case of an emergency, knowing that electricity is at your fingertips if needed.
This specific port will also prevent bugs or leaks from entering the tent. While running a cord into your tent through an opening or a window, Bushnell designed the Shield Series tent's e-cable port specifically to minimize potential gaps.
The flap over the port ensures that only the cord fits through, leaving no excess pockets or openings for bugs or leaks to enter.
Ground Vents/AC Port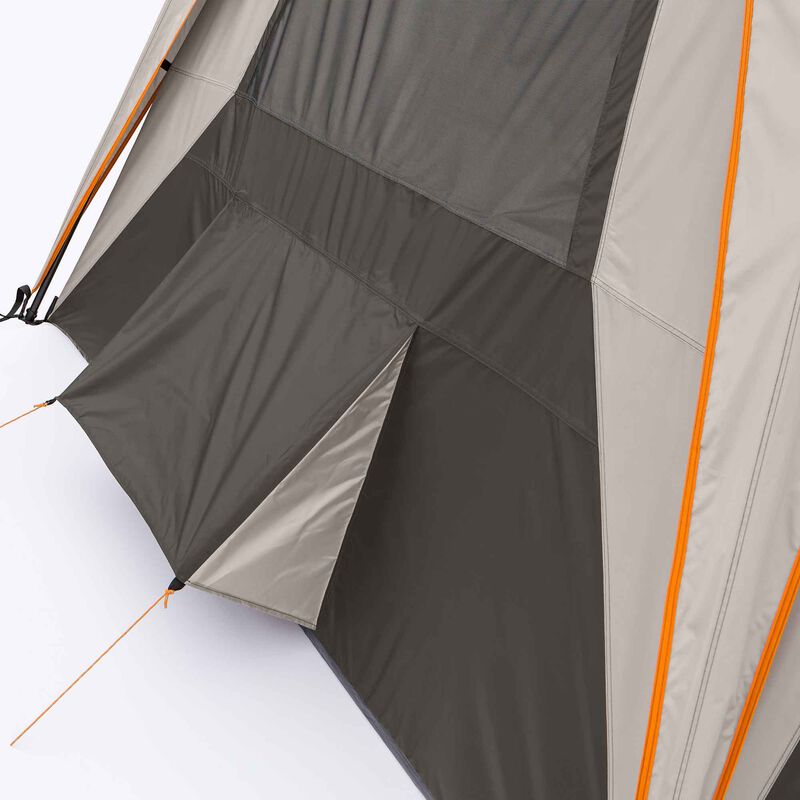 Not only during the night, but the vent also allows fresh air to properly circulate throughout the cabin as long as you have it open. Since the vent is near the ground, the air coming in will be cool.
You can attach a portable AC for a more amplified cooling effect from the AC port that the vent may not give you. The physical tent air conditioner unit, however, does not come with the tent.
You can see just how convenient the AC port is on this tent, great for keeping cool through hot summer camping trips.
Great Value
Overall, the Bushnell Shield Series tent is an excellent value purchase if you are looking for an affordable camping option. With all of the latest technology upgrades to give you security and safety from the environment and massive space to stay comfortable during your trip, the instant cabin tent ranges between $300 and $550 (price dependent on the tent size you choose).
Competitors with similar features and equally reputable brands can cost upwards of $600 for a six-person tent.
With the tent, you also get a cover, six tie-downs, and a carrying bag. Where other tents of similar quality can break the bank, this Bushnell brand tent stays within a reasonable price range without sacrificing quality.
What Other Campers Think
The Bushnell Shield Series tent is a high-quality choice for your next camping trip, but don't just take our word for it. We've searched around for other campers' opinions on the Shield Series tent. Take a look at some reviews from Bushnell customers about this instant cabin tent below.
Alternatives
Bushnell's Sport Series tent can accommodate at least four and at most 12 campers. It also has an expansive interior with much-needed storage compartments for all of your knick-knacks and necessities. This tent, however, is not as easy to set up as the Shield Series tent.
While the Bushnell Shield Series tent has an instant setup guarantee with pre-attached poles, the Sports Series tent does not. This kind of pavilion setup will require more effort and work to set up, meaning you will lose time building the site you could spend enjoying the outdoors.
Pros:
Expansive interior for up to 12 people
Plenty of storage space
Weather-resistant fabric
Cons:
More difficult setup and takedown
Learn more about the Bushnell Sport Series here!
If you plan on setting off on an extended backpacking trip and want to set up various campsites as you go, you'll need a tent that accommodates that journey. Bushnell designed their Roam Series Backpacking tent specifically for backpackers because, like the Bushnell Shield Series tent, you can set it up and take it down with ease.
Because of its quick setup and takedown design, the tent is much smaller than the Bushnell Shield Series tent. It can fit a maximum of two people, while the Shield Series tent can accommodate a maximum of 12. However, the tent still maintains its highly weather-resistant fabric to protect you from any conditions that may come up during your excursion.
Pros:
Lightweight
Easy 3-pole assembly
Factory-sealed seams and weather-resistant fabric
Compact storage compartments
Cons:
Minimal square footage
No e-cable or AC port
Feel free to check out the Bushnell Roam Series Backpacking Tent for more information.
The CORE 6 Instant Cabin Tent, much like the Bushnell Shield Series tent, provides enough space for up to six people and comes with a speedy setup. This tent has as high a ceiling as the Shield Series, too, along with water-resistant material. However, this tent is less expensive than the Shield Series tent.
While it has water-resistant fabric, the CORE 6 Instant Cabin Tent is not nearly as weather-proof as the Bushnell brand. If exposed to more than a light shower, the tent is prone to leaking and cannot withstand harsh winds. If you go camping and a storm pops up, you may be out of luck for a bit.
Pros:
It fits up to six people
Fast setup and takedown
High ceilings
Cons:
Prone to leaking
Cannot withstand strong winds or breezes
If the CORE 6 Instant Cabin Tent sounds like an excellent option for you, learn more about it!
Also See: Our tent section to see our tips and other tent recommendations.
---
Wrapping Up
Camping is designed to be a fun and relaxing time for anyone involved. Unfortunately, there are some drawbacks to accommodations that can interfere with that level of enjoyment.
Setting up a campsite can be a burdensome process, and it significantly cuts into fun times on day one if you don't have the right gear.
I'm not proud to admit it but when we started camping I don't think I can count the number of times I've had to take a break and walk away from setting up the tent out of sheer frustration. And when you add little kids to the equation you definitely need a tent that's easy and real quick to set up.
Luckily for us, we've found a tent to help curb some of our concerns.
The Bushnell Shield Series Tent provides the optimal space, protection, and storage you need with a fast and easy setup and high-quality materials. It's a great tent option for those looking for a superior quality tent without having to break the bank.
If you think the Bushnell Shield Series Tent might be a good fit for you, check it out here.